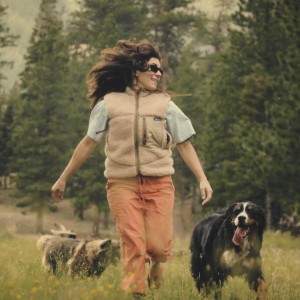 As a person, I love to make people laugh & smile…it's a gift I've had since I was a kid and I feel as though when it comes to photography, laughter is my constant companion in life.
I always ask people if they want to stretch first before we start shooting….seems like a good idea….
I drink tea like it's going out of style, absolutely love chocolate and anything sweet and I probably spend more time with my dogs than most people.  My husband is my biggest fan…  He too is a photographer and he inspires me in everything I do.  We've worked together for years now and we're both starting to feel like we are beginning to look alike….
As a photographer, capturing familes, babies, children and pets is something I put my heart into.  I absolutely love to document the most important part of a person's life; their family.
My husband and I also own and operate McMillen Fine Art Gallery in Park City, Utah and we absolutely love it here.  We got our start in Las Vegas, Nevada photographing editorial & commercial work, expanded into a portrait studio and I just fell in love with documenting people's lives.  Since we relocated to Park City, it has quickly become one of my favorite locations for shooting portraits. The landscapes and natural beauty make it the absolute perfect spot for any photo session.
So if you're ready for some serious photo fun as well as some absolutely gorgeous images then I'm your girl….I can be reached via email trish@studioatg.com or trish@trishmcmillen.com or phone: 435-633-6139
I specialize in:
Park City Photography, Park City Portrait Photographer, Park City Baby Photos, Park City Family Photography, Park City Family Portraits, Park City Senior Portraits, Park City Vacation Photos, Park city Fine Art Photography, Park City Wedding Photography, Park city Engagement Photography, Park City Newborn Photography, Park City baby Photographer, Park city Portraits, Family Portraits Utah, Family photos Park City, Family Photos Salt Lake City, Pet Photos Park City.